Nearly two years ago, I was asked to come to Waitomo and shoot a time-lapse in a glow worm cave. For whatever reason, I pushed that out, probably because I felt I had too much on and it was long drive to get there. Early this year however, I was asked again to do the same and how much it might cost to make a time-lapse. The timing was right and the money was a motivator. I had a commissioned job. It was pleasure to be invited to the Footwhistle Cave and to shoot the time-lapse which you can below.
There were a few challenges once I got on location for my set up. In cramped and wet conditions in the cave, I quickly realised having set most of my gear up that I had forgotten to include a shutter release cable. It's an essential piece of my kit and without, I cannot do the time-lapse. Frustrated, I instead used another intervalometer that would do the job instead.
All was not lost. I did manage to shoot two sequences that are worthwhile. I especially like the opening scene looking towards the bush canopy which transitions from day to night when the glow worms light up. I was impressed with what I got, as was my client.  Be sure to listen to the natural sounds which I have edited into the short clip.
[twocol_one]
[/twocol_one] [twocol_one_last]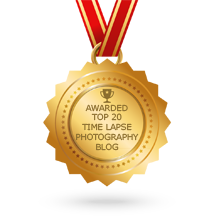 [/twocol_one_last]
Not only did the year get off to a great start with glow worm time-lapse, but my blog had been selected in the Top 20 Time Lapse Photography Blogs on the web.  See the award directly above.  This of course comes on top of the accolades I received last year. Already the year is off to a good start !
Something I have been planning for a while is a move from Wellington to Central Otago, New Zealand. That's become a reality for me now as I prepare for a big move south. While my photography income does not sustain a revenue flow to keep my mortgage afloat or put new camera gadgets in my gear cupboard, I will have a lot more new opportunities for my time-lapse photography.  I often travel to this part of country but now I don't need to.  I'll be living in Cromwell with only a few hours travel to Fiordland, Mt Cook region, Catlins and the stunning area of Central Otago itself.  You might see a few more of my pictures on TVNZ weather competing against other photographers in region.